Mick Evans' History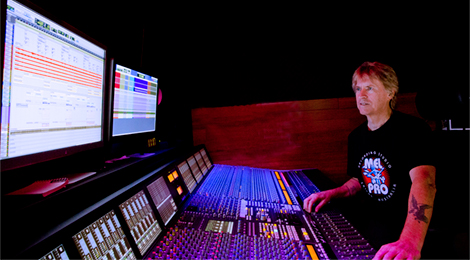 Introducing Mick Evans of Surfers Paradise, Queensland, Australia.
Putting a job label on Mick Evans is a difficult task. Mick is the producer/engineer and Director of Melpro Recording Studios. His job description is wide however, as he also is a musician in his own right, and a songwriter, along with a multitude of other talents, and many years experience in the studio environment, and the music industry.
Take a walk down Mick's memory lane with a brief look at his background in entertainment.
1981
Mick moved to Melbourne as a D.J. and variety entertainer at "The Venue", and "The Palladium", along with making appearances with Countdown's Molly Meldrum.
1988
In 1988 Mick left Australia to open up a club in Salzburg (Austria), which became a most prestige club, it was called 'LIFE'.
1990
During 1990, Mick channelled all his energy and concentration into Producing, Engineering and Remixing for many established artists, as well as up and coming Talent. One of the major projects was setting up a Recording Studio in partnership with Coral Stringfellow, called M.E.L. Midi-Mix Studio, and forming a dance/soul band '2-Excel or 2XL' with Duncan Mackay from 10CC and Neil Lockwood lead singer of 'E.L.O Part Two' and the 'Alan Parsons Project'. The band released their first single in May 1990 with D.S.B. Records, Germany called "Disciples of the Beat". The song had success throughout Europe.
FEBRUARY 1991
February 1991 the release of "Disciples of the Beat" in France and from there on various remix works such as the classic hit from Men Without Hats "Safety Dance" and Beautiful Ballet "Energy". Mick was writing and producing with John Wicks formerly of The Records, John Fiddler from Medicine Head, The British Lions, Box of Frogs and Lawrence Archer from Thin Lizzy and UFO. Mick and John went on to write new material for Liz Mitchell lead singer of Boney M.
1994
In 1994, Mick moved his Studio back to Australia to finish a cover of the Chicago hit "If you leave me Now" produced by Mick Evans and Neil Lockwood from E.L.O. Part Two and Allen Parsons, released through Sirius Music, Victoria. After the compilation of "If you leave me Now", Mick got together with English M.C., D.J. Ozzie Gee to form their band INFX. With the song Unity released through D.S.B. Records Germany.
While still in Sydney Melpro produced a 10 track commercial dance album called (Slather) naming our production and the CD Saturn 3. Writers being John Collins, Mick Evans, David Berman and Wayne Miller. Vocalist singing on this album. Keren Minshull, Susie Ahern, Tina Harrod, Kelly Carter and Sally Berman.
1997
Mick relocated the studio to Cairns, QLD, Australia.
2001
Melpro recorded and produced the original version of the number 1 Australia hit "These Kids" for artist Joel Turner and the Modern Day Poets.
2011
Melpro was heavily involved within the Film industry by doing ADR's for a T.V Series filmed in Cairns "The Straits". Actors "Brian Cox", "Aaron Fa'aoso".
2014
Mick Evans and Les Hall teamed up with Rebeka Rain and Produced and co-written her first album "Questions" release through Melpro Records and Distributed world wide by MGM Distribution in Sydney.
MID 2015
Mick Evans, Rekeka Rain teamed up with local 20 year old singer song writer Jayden Reid and wrote and recorded Better Day's with Jayden and Rebeka sharing the vocal lines.

Late 2015 Mick and Rebeka are recording and co-writing a number of songs for a documentary on suicide. Rebeka lost her 20 year old song Harry to suicide.
Kyle Petersen from South Africa had come to Australia to co-writer and work on 4 new song for this suicide campaign.
1983
Mick moved back to the Gold Coast in 1983 for a special appearance at the Broadbeach International Hotel (which was to become the schoolies week celebration venue). He then accepted the resident D.J position at Brisbane's biggest night spot, "Sybils". During this time Mick hosted a Radio spot each Wednesday on the most popular FM Radio Station of the time, Stereo 10, presenting European/Imported dance music. In late 1987 Mick moved from "Sybils" to Australia's premier tourist resort Hamilton Island in the (Whitsundays) as the DJ at "Dirty Nellies" Nightclub.
1989
1989 saw Mick expanding his horizons and moving to London to start working as a DJ for Peter Stringfellow at the World Famous "Hippodrome" and "Stringfellows", on St Martin's Lane, London, 6 nights a week.
OCTOBER 1990
In October 1990, Mick was contacted by Simon Brown of 'Julianna's', to open up one of the biggest and up-to-date clubs in Europe; 'Arthur's' in Geneva, Switzerland. While there, on behalf of ZYX records, Germany, he remixed the number one summer hit song in Europe "It's on you", by M.C. Sarr for it's U.K. release in December 1990.
1992
During 1992 Mick and Duncan Mackay from"10CC" wrote and produced two songs for Raindance Records and MCA Music, titles being "Rave Out" and "Mac -Attack".
Along with writing and producing Mick continued his role as a D.J. at various Clubs around England. "The Venue" in Poole, "Circa" in Berkeley Square, and Mick's regular gig on Saturday Night at the "Broadway Boulevard", Ealing.
Mick worked the major Australian events in London, for Top Deck travel and TNT outdoor barbeques throughout the years, with crowds of to 7,000 – 10,000 people. The latest being the launch of Tooheys beer at the London Zoo, hosted by Mick Evans and Pat Cash.
1995
Mick moved to Cairns, QLD, Australia to Dj Tropo's night club.
1999
Mick setup Apple computer retail business for the next 15 years and seen the Apple business go to 3 retail shops 2 x "Talk to the Mac" and "Cairns iShop".
At the same time Melpro Recording Studio was built on the first floor of Talk to the Mac in Grafton Street Cairns, tropical North Queensland Australia to where it is to date.
Melpro studio carried on recording for the local artist.
2003
Mick and Les Hall Remixed the 1978 hit Dreadlock Holiday from 10cc.
2012
Melpro was still working within the film industry doing ADR's for US companies with "Henry Rollins" & "Rachel Ward". The Studio was synced back to the US Studio's using Melpro ISDN link. In the same year 2012 Mick also recorded and produced a 30 minute dialogue for Director John Geddes feature film "Exit Humanity" with actor "Brain Cox" narrating the dialogue.
2015
Mick Evans, Rebeka Rain and Les Hall teamed up with singer song-writer from the UK John Fiddler. Front man of (Medicine head, The British Lions and Bog of Frogs formerly know as the Yard Birds) to write and produce the second album "I Am Rain". Rebeka Rain also had a guest singer song-writer with 9 number 1 hits under his belt Max T. Barnes from Nashville. Max sang and played guitar on track 2 "You Should Try Livin' Too".

Max also played acoustic guitar on track 3 "Never Gonna Land" off the "I Am Rain" album. "Colour Of Hope" from the same album "I Am Rain" was co-written by Duncan Mackay former member of Steve Harley and Cockney Rebel and 10cc.